LIDIA VITALE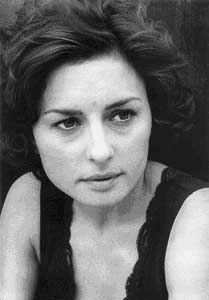 Lidia is a true Romana di Roma, whose family has been living in the eternal city for centuries. She has been a stage and screen actress since the age of 14 and has worked with some of Italy's finest directors, writers, and actors. Her hiatus from 1997-2003 was due to the birth and subsequent raising of her daughter, Blu. This resume shows only her work from the past 6 years, where she took smaller roles and TV parts as they were less demanding and kept her in Rome and near her child. Now back on stage and screen now, Lidia is in great demand and gaining much respect and marvelous notices for her performances.
Franco on Lidia: Apparently the fates had been planning my meeting with Lidia long before she and I actually would meet. I was in LA in 2003 in the very beginning stages of the first of several attempts to make the film version of Roman Nights. I met an Austrian art dealer who said to me: "You must meet this Roman actress, she must play the role of Anna Magnani in your film!" The man was insistent and enthusiastic. He repeated her name and told me that she had not been acting for several years in order to raise her child -alone- which, naturally, evoked images of La Magnani. This man must have called someone in Europe and eventually a friend of Lidia's received a call informing her that there was a play (Roman Nights) about Anna Magnani and Tennessee Williams, and that there are plans to make a film. Some time in 2004 Lidia wrote me a beautiful note via email and our correspondence began. At the very end of 2005 Lidia made a 21 day trip to New York to explore acting possibilities here and meet with directors. We met her first hour in New York (right from the airport) and our intense and passionate connection was instantaneous. We saw each other constantly over those three weeks and shared many confidences and experiences, professional as well as personal. Lidia is disarming and purely honest in a way that is both refreshing and addicting. Our world today is filled with many false people and false desires. The arts have been infected by the many diseases of modernity: money obsession, fixations on fame and celebrity, pop culture politics, political correctness, which makes sincerity as rare as the most endangered of animals. And Lidia is so much like an alluring, exotic animal in the most beautiful and truthful sense.
In June of 2006 I returned to Rome to teach my Master Classes in Dramatic Text Analysis and stayed for a month. During that time she and I forged a bond that we are both certain will endure for our lifetime and, result in many future creative collaborations as writer and actress.
Once again in my life I am blessed with a inspiring muse and a dear friend… the stuff that dreams are made of.