ROMAN NIGHTS - NOTTI ROMANE now in Croatia and Slovenia. - Starring Elvia Nacinovich as Anna Magnani and Mirko Soldano as Tennessee Williams.

Starting October 17th at the Theatro Nazionale Croato / Hall of Filodrammatica in Fiume for the new 2013-2014 theater season.

Interview Franco D'Alessandro / Gianfranco Miksa for 'laVoce del popolo' (Italian / English)

June 12 at 7:00 PM
, Italian Cultural Foundation at Casa Belvedere, 77 Howard Ave,
Staten Island
June 13 at 7:30pm
, Casa Italiana Zerilli-Marimo' at NYU, 24 W 12th Street,
Manhattan
June 15 at 3:00 PM
, Belmont Library and Enrico Fermi Cultural Center, 610 E. 186th Street at Hughes Ave.
Bronx
Reservation # (866)-263-2924 Free Admission - Limited Seating - These shows will sell out!
------------------------------
| | | |
| --- | --- | --- |
| | | News: ROMAN NIGHTS - RIMSKE NOCI in Prague has been bought by one of the best producers in Czech Republic, and will now be running at a much bigger and better theater in the heart of Prague! Re-opens for its 7th year on May 14th! |
| | | |
NOCHES ROMANAS opened in Buenos Aires at Centro Cultural De La Cooperacion on February 8th 2013, starring Virginia Innocenti as Anna Magnani and Osmar Nuňez as Tennessee Williams. The production was directed by Oscar Barney Finn.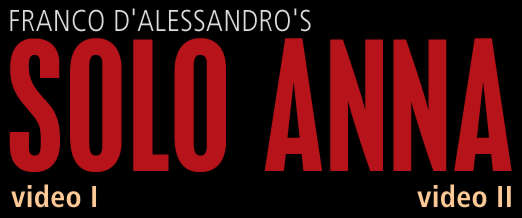 more on Lidia Vitale and SOLO ANNA here
----------------------------------
SOLO ANNA - Los Angeles, March 29, 2012 (read more here)

RIMSKE NOCI / ROMAN NIGHTS in Prague (and touring Czech Republic /Eastern Europe) celebrates its 5th Anniversary and 250th Sold-Out performance!
Join Fansites of ROMAN NIGHTS and SUPPLICATIONS


Contact (Professional Matters): voxfortis@earthlink.net
Copyright 2005-2014 Franco D'Alessandro. All Rights Reserved.